Convention centre to be named after Netaji Subhash Chandra Bose: CM Shri Chouhan

Jabalpur's development to get wings, gift of over Rs 238 crores
No stone will be left unturned in the development of Sanskardhani 


भोपाल : शनिवार, जनवरी 23, 2021, 22:52 IST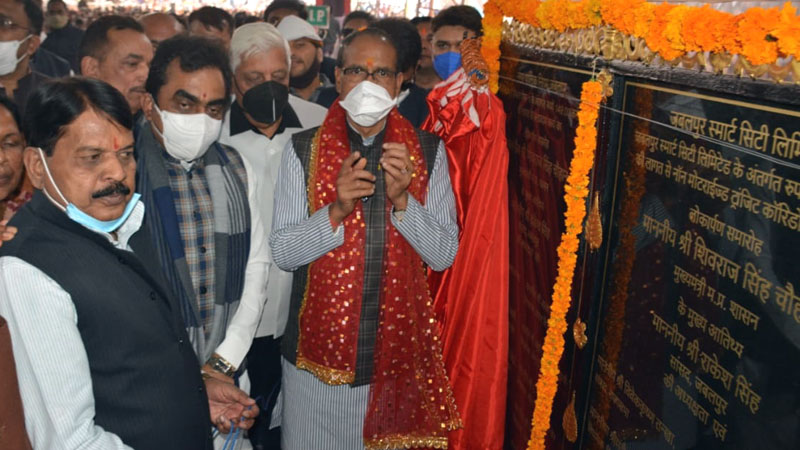 The convention centre coming up in Jabalpur will be named after Netaji Subhash Chandra Bose. This announcement was made by the Chief Minister Shri Shivraj Singh Chouhan during the dedication of development works, foundation laying and distribution programme of benefits to beneficiaries in the urban areas of Jabalpur. Chief Minister Shri Chouhan said that not only did Netaji visit the city, but also remained in jail for more than 6 months for the fight for freedom of the country.
Chief Minister Shri Chouhan said that there are many memories of Netaji associated with Jabalpur. We will do the work of nurturing his memories here. A picture exhibition should be organized, depicting his activities since birth and his personality. A documentary film based on his life will also be produced.
Chief Minister Shri Chouhan also gifted development works worth Rs. 238 crore to Jabalpur city. He dedicated and laid the foundation stone of various works. Chief Minister Shri Chouhan said that no stone will be left unturned in developing Sanskardhani accordingly. Madhya Pradesh cannot be imagined without Jabalpur. We will develop it keeping its specialities in mind. I will meet people's representatives today and will go only after chalking out a development plan for Jabalpur. In the meantime, the Chief Minister also inspected an exhibition based on the development works being undertaken by the Municipal Corporation in the urban area.
Chief Minister Shri Chouhan said that peas have been selected for Jabalpur district under Ek Zila Ek Utpad. Under this, pea processing units will be set up in the district. Value addition will be done in this direction. Our effort is make better products after food processing of peas so that the growers can get maximum benefit.
Chief Minister Shri Shivraj Singh Chouhan also sought the support of the people of Jabalpur in the campaign launched by the state government against mafia. He said that this fight cannot be won without people's support. CM Shri Chouhan said that he is in a different mood this time. Mafia, crooks, goons, will not be spared at any cost. The officers have direct orders to destroy the goons, crooks and dadas. We have freed land worth Rs 116 crore in Jabalpur alone.
Chief Minister Shri Chouhan appreciated the actions taken by the Jabalpur district administration against mafia. Shri Chouhan also gave instructions to the officers to continue the campaign launched against the mafia. He said that this action must not be stopped. He also told to ensure that no poor should be harassed under the guise of this action. He informed that strict action is being taken against chit fund companies engaged in illegal collection of money by luring people. Till now, assets of many such companies have been seized and auctioned and Rs 800 crore has been paid to the affected people. No mafia will be spared on the land of Madhya Pradesh, this is my resolve.
Chief Minister Shri Chouhan said that the poor, who are landless, were given pattas and made owners. He said that our poor brethren have the first right over the state treasury. We have resumed the Sambal scheme which is the strength and support of the poor.
Chief Minister Shri Chouhan sought information about the cards made under the Ayushman Bharat Yojana. He said that Ayyushman cards should be made of every eligible poor person. No eligible poor person should be deprived of it. Chief Minister Shri Chouhan gave instructions to provide benefits to every eligible person under the street vendor scheme.
Chief Minister Shri Chouhan also distributed the benefits of various schemes including PM Swanidhi Yojana, Ayushman Bharat Yojana, eligibility slips, shramik cards during the programme organized at Shaheed Smarak, Jabalpur. The Chief Minister also visited the exhibition of development works on this occasion.
MP Shri Rakesh Singh, MLA Shri Ajay Vishnoi, Smt. Nandini Marawi, Shri Ashok Rohani, Shri Sushil Tiwari Indu and MLA Shri Sanjay Yadav, president of administrative committee of District Panchayat Smt. Manorama Patel, former Minister Shri Anchal Sonkar, Shri Harendra Jeet Singh Babbu and Shri Sharad Jain, Shri Vinod Gontia, Shri Ashish Dubey, Shri Abhilash Pandey, Shri GS Thakur, Shri Ranu Tiwari, Smt. Pratibha Singh, Smt. Sumitra Valmik and Shri Dilip Dubey were also present in the programme.


Sunil