Will not leave any stone unturned in development of Agar Malwa district: CM Shri Chouhan


Benefits of various public welfare schemes distributed among beneficiaries


भोपाल : मंगलवार, जुलाई 14, 2020, 22:34 IST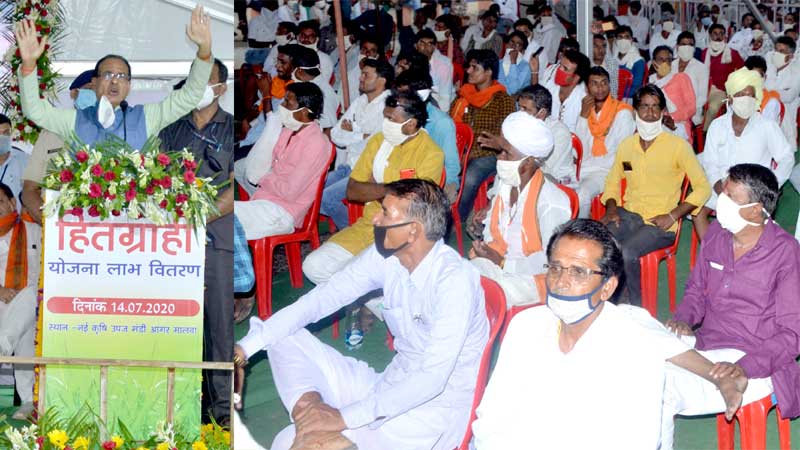 The Chief Minister Shri Shivraj Singh Chouhan dedicated 15 development works costing Rs. 4147 lakh 95 thousand and laid foundation stone of 15 development works worth Rs. 2523 lakh 81 thousand in Agar Malwa. Shri Chouhan said that he had not left any stone unturned in the past and will not leave any stone unturned in future too in the development of the district. The state government is of the people and farmers. The state government is committed for the development of people. On this occasion, the Chief Minister also distributed the benefits of various public welfare schemes among the beneficiaries.
The Chief Minister Shri Chouhan was addressing the programme organized in Agar Malwa district on Tuesday. He said that the state government is with the people of the state in this hour of Covid-19 crisis. Free ration was distributed among the poor and labourers during the lockdown. If required, ration will be given to poor families in future too. Arrangement has been made to repatriate labourers stranded in other states during the lockdown and an amount of Rs. One thousand was deposited in accounts of each migrant labourer. Now, employment is being provided to the migrant labourers in the state itself. The Chief Minister further added that our government has done many things in the last 100 days, which the previous government could not do in the last 15 months. He said that the amount of interest of those farmers, who have been declared defaulters because of non waiver of loans under the crop loan waiver scheme, will be borne by the state government.
The Chief Minister Shri Chouhan further mentioned that despite adverse situation, the state government has procured one crore 29 lakh MT wheat at support price from the farmers and the state has achieved the first position in the country in procurement. The Sambal Yojana has been restarted by the government to help poor. He said that immediately after the formation of the government, about Rs. 2200 crore towards crop insurance has been distributed to 15 lakh farmers. An amount of Rs. 4 thousand crore against Kharif crop insurance will be distributed soon among the farmers. Shri Chouhan mentioned that laptops will be distributed among the students of the merit list of board examinations. He stated that Urban and Rural Street Vendors scheme has also been launched by the government for people who make their both ends meet by conducting business on thela and through shops. Under the scheme, an interest free amount of Rs. 10 thousand will be provided to them, he added.
The Chief Minister Shri Chouhan said that the day Agar Malwa has been made district, several gifts of development have been given to the district. A large irrigation project has been constructed in the district and wherever required dams will be constructed, he added.
Addressing the programme, Rajya Sabha MP Shri Jyotiraditya Scindia said that the present state government headed by Shri Shivraj Singh Chouhan is a government for public service. During the Covid-19 lockdown, Chief Minister Shri Chouhan took prompt decisions in public interest and save people from the pandemic. He said that the Prime Minister Shri Narendra Modi has paved a new way for the world by taking the important decision of lockdown on time to save the lives of 130 crore people during Corona crisis.
Khajuraho MP Shri V.D. Sharma said that the state government has written a new chapter of development in the last 15 years, transforming the state into a developed state from a sick state. The government of last 100 days has made plans for every section of the state and has benefited every person through it. MLA Shri Vikram Rana and former Union Minister Shri Satyanarayan Jatiya also addressed the programme. Higher Education Minister Shri Mohan Yadav, Rajgarh MP Shri Rodmal Nagar, local public representatives and senior administrative officials were also present on the occasion.
Gift of Development works worth Rs 6671 lakhs to Agar district
Chief Minister Shri Shivraj Singh Chouhan dedicated development works worth Rs 4147.95 lakh in Agar-Malwa district and performed bhoomi pujan of works worth Rs 2523.81 lakh.
Chief Minister Shri Chouhan performed bhoomi pujan of three works of Rural Engineering Services Department at Agar, Kankar, Lapakheri and Dehariya Nana Primary School buildings, sub-station of new 33/11 KV capacity of 3.15 MVA capacity in ten villages of Madhya Pradesh Pashchim Kshetra Vidyut Vitran Company, two works under Public Works Department from Badagaon to Goyal Marg and Shyampura to Kalwa Balaji route.
In the same sequence, he dedicated two works of Agar Nagar Palika Parishad including Gawli and Mali Samaj Cremation Shradhhanjali hall, Bambeghat Shraddhanjali hall, shed and boundary wall work, two road construction works of M.P. Rural Road Development Department from Palda to Ladwan, Agar to Hanuman Nipaniya, Padana Barrage and Dawatpura pond without canal under Water Resources Department, eight works of Public Works Department and PIU Department including Sub Tehsil Office, Kanad, Jhonta, Soyatkalan and Badagaon, Government High School Bhavan Goyal, Government Excellence Uma Vidyalaya Nalkheda, Government Uma Vidyalaya Dongargaon, Sub Divisional Officer (Revenue) Office Susner and Amla-Nalkheda Road.


Rajesh Bain/Anuradha Gaharwal